A strong, goal-oriented team is the foundation of any blooming business. For start-up companies, team building activities are essential to discovering what role each employee has within the group, finding out what their forté is and how to incorporate it into their work, as well as learning how to collaborate with their colleagues. However, these events can also benefit companies which have already made a name for themselves in various industries by improving team performance and re-defining ambiguous roles. Regardless of the type of business you have, the creative event planners at Caché Events will come up with the most effective and fun team building activities for your employees.
Our Skilful Event Planners Will Help You Select the Most Original and Engaging Activities for Your Team Building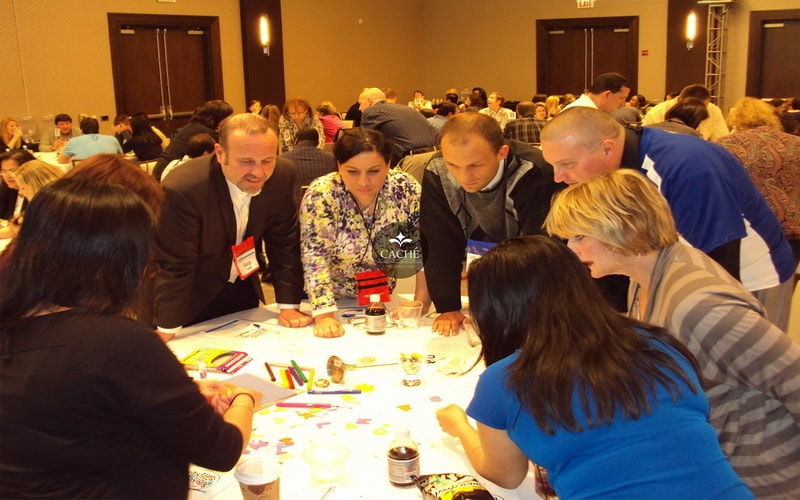 Having organized plenty of spectacular corporate events over the past twenty years, we will offer you and your attendees a unique, individualized experience. Our resourceful planners will thoughtfully compile a list of team building activities focusing on the specific professional and interpersonal skills you would like your employees to develop. From creative problem solving tasks to team bonding and collaboration games, your event is bound to benefit from original activities only. Caché Events will also help you decide on the perfect venue – indoors or outdoors – to accommodate your guests, while our vigilant coordinators will discreetly supervise your event to ensure it runs uninterruptedly.
Team building activities are extremely diverse nowadays and with such a wide range to choose from, it can be really challenging to figure out which would be the most fruitful in enhancing the abilities of your employees. Nevertheless, with the assistance of our diligent event specialists, you can rest assured your team building will strike home. The following are only some of the engaging team building activities we can organize for your event:
Office Trivia (team bonding)
Salt and Pepper (communication skills)
Zoom (problem solving)
The Mine Field (team bonding)
Helium Stick (ice-breaker)
Life Highlights Game (communication skills)
Coin Logo (team bonding)
The Great Egg Drop (problem solving)
Toxic Waste (collaboration)
Frostbite (creative problem solving)
Do You Need Some Creative Ideas from Event Professionals for Your Next Team Building?
Caché Events has been designing and executing exquisite corporate events for a broad range of clients throughout the past two decades, including numerous successful team buildings in Washington DC, Virginia and Maryland area. If you are seeking a competent team with relevant experience in event planning, you have certainly come to the right place! We will organize your team building down to the last detail so that you, too, will be able to partake and interact with your attendees. For more information, please feel free to contact us at 202.930.2507. Our event professionals will deliver a unique experience to your guests.