Reconnecting with your family and catching up with your friends in a cozy atmosphere after a hectic year is without a doubt very uplifting and can instantly turn your frown upside down, all the more so if you are going through a stressful period in your life. A party is often the ideal setting for spending quality time with your loved ones while celebrating a meaningful social observance like New Year's Eve or a momentous national holiday like Thanksgiving.
Nevertheless, planning a festive event from scratch can be overwhelming, especially if you are going to host a large number of people. There are plenty of aspects you will need to timely think through so as to provide adequate accommodation to your guests, as well as a lot of unexpected situations which may arise during the event and disrupt your celebration. Caché Events – one of the premier event planning companies in the Washington D.C. area – is here to ease your burden and allow you to fully enjoy your next holiday party alongside your friends and family.
Let the Professional Event Planners at Caché Events Surprise Your Guests with High-Quality, Flawless Services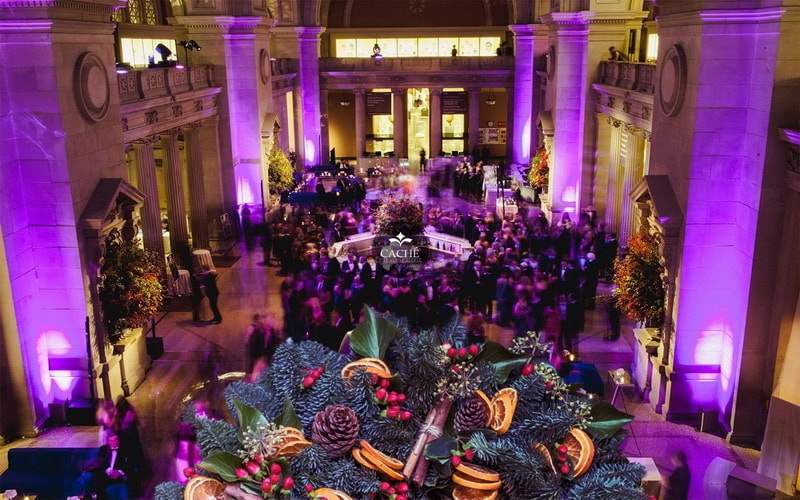 Over the course of the last twenty years, we have designed and executed countless memorable holiday events, from low-key, intimate family gatherings to imposing parties attended by hundreds of guests. As we mostly work with corporate clients, our event planners have truly high standards when it comes to the quality of the services Caché Events offers and will go to great lengths to ensure your holiday party turns out exactly as you wish. Whether you already have a detailed plan or just a rough idea, we will dedicate our endeavors to bringing your vision to life so that your event will leave a lasting impression on your guests.
To make sure your holiday party is running smoothly, our highly experienced and resourceful event coordinators can keep a vigilant eye on everything and promptly solve any unpleasant situation. Without having to worry about such nerve-racking aspects, you will be able to sit back and relax all along your celebration. Some of the services we can provide to make your next holiday party stress-free are:
budget development
venue selection and booking
designing and sending out invitations
menu development and catering services
entertainment
bar service
professional staffing
décor
photographer
on-site support and coordination
event styling
transport coordination
Our Skilful Event Planners Will Transform Your Upcoming Holiday Party into a Memorable Experience
If you are looking for a team of competent event planners to assist you with organizing the perfect holiday party, you have certainly come to the right place. As a reputable event planning company in Washington DC, Virginia and Maryland area, Caché Events will offer you flawless services which are bound to leave your guests in awe long after the party is over. For additional information, please contact us at 202.930.2507. We will design and execute a unique festive event tailored to the needs and preferences of your guests.