Mediation skills can be a very useful asset regardless of your career, since conflicts and disagreements may arise in any work environment. To legal professionals, however, the ability to effectively resolve challenging disputes between conflicting parties and facilitate the reach of a constructive, just consensus is vital.
Organizing a complex mediation event is without a doubt a worthwhile investment which can help your business grow considerably. A successful outcome will instantly boost your reputation as a highly capable mediator and may even gain you more clients. Moreover, if one of the parties you are striving to reconcile is a renowned company, it can also increase your brand awareness substantially.
A well-thought-out business acquisition will certainly represent a momentous event in your company's history, since such a major investment is bound to bring about a series of considerable professional benefits, as well as enable the further development of your law firm. Hosting a memorable event in honor of this milestone is perhaps the perfect way of celebrating it alongside your business partner.
Our Skillful Event Planners Will Provide Your Attendees with Flawless Services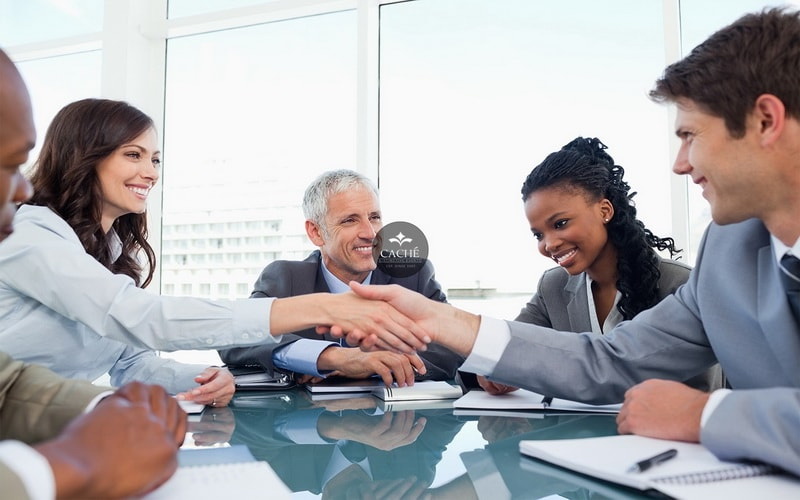 Nevertheless, planning a critical mediation event or the celebration of a recent business acquisition from scratch requires a lot of time and energy. The team of event planners at Caché Events has comprehensive experience in executing corporate events for a vast range of clients within the legal field, from promising start-up companies to nationally acclaimed law firms. We will meticulously organize your event so that you can focus on more important aspects in the meantime.
Depending on the specific event you are hosting, the services we can offer include the following:
attendee registration
event design
venue and hotel sourcing
speaker sourcing
professional staffing
social media management
Having delivered numerous impressive events throughout the past twenty years, we can truly say we are experts in our industry. Our diligent planners will promptly organize your mediation event down to the tiniest detail. From selecting a suitable venue to accommodate your guests to suggesting high-quality caterers to supply them with fine food and beverages, we will also keep sight of everything during your business acquisition celebration.
Are You Planning a Mediation or Acquisition Event for Your Law Firm?
If you are a legal professional seeking out a competent event planning company to help you organize a mediation event or a business acquisition celebration, you have come to the right place. Lawyers represent the majority of our corporate clients and Caché Events is honored to be the go-to event planning company for your peers in Washington DC, Virginia and Maryland area. Do not hesitate to contact us at 202.930.2507 and we will carefully handle both the organizational and the coordination aspects of your event with unparalleled attention.