Depending on their purpose, business conferences come in different shapes and forms. While a round-table conference is often the ideal setting for exchanging opinions with your colleagues on a specific topic, you may want to organize a seminar if you intend to reach out a larger audience and offer your peers the opportunity to develop useful skills. As a legal professional, conferences are undoubtedly a very valuable mean of growing your business. By listening to the ideas of your co-workers and coming up with effective business strategies together, as well as by staying up-to-date with how your competitors are conducting their law firm, you have all chances to set your company up for success.
The Event Planning Specialists at Caché Events Will Organize a Conference Tailored to the Needs of Your Attendees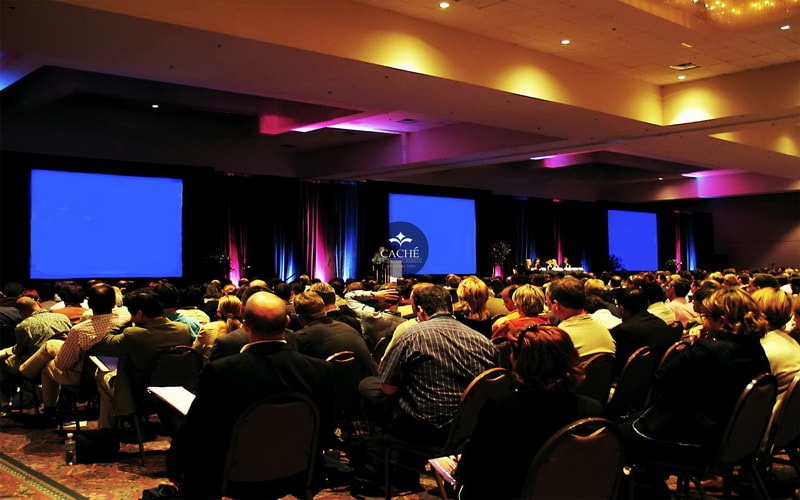 Regardless of the aim of your event, timely planning and rigorous execution are essential to ensuring a pleasant, smooth-running conference. Caché Events has been designing business conferences for numerous legal professionals throughout the past twenty years, since law firms represent a significant portion of our client base. Whether you are hosting a small conference for your colleagues or a large-scale, complex workshop, we are bound to provide you with exquisite services and flawless event execution.
Our resourceful event planners will dedicate their endeavors to accommodating the needs of your guests by helping you select the most suitable venue, while our highly experienced coordinators will discreetly oversee your conference to make sure everything is running seamlessly. With our vigilant on-site coordination, you will be able to enjoy the event and interact with your attendees free of stress.
We can assist you with organizing the following types of conferences and many more:
workshops
symposiums
round-tables
seminars
Are You Planning a Conference for Your Law Firm This Year?
Let Caché Events – one of the highest-rated event planning companies in Washington DC, Virginia and Maryland area – handle it! Since the majority of our corporate clients are legal professionals, we can proudly say that developing, executing, and coordinating conferences for your business is our specialty. For excellent event planning services, please contact us at 202.930.2507. Our diligent event specialists will invest all their time and energy into creating the event you are looking for, be it a small, company-specific meeting or a multi-day conference.