A corporate holiday party is the perfect occasion for employees to get together and socialize in a more casual setting. Nevertheless, hosting a festive event is not only a great way of celebrating a holiday or rejoicing with your colleagues over your latest professional accomplishments. It can also be a valuable opportunity to make your brand known to a wider demographic and attract prospective clients. Ultimately, a holiday party is a business investment which can contribute significantly to the prosperity of your company.
For this reason, Caché Events is bound to help you express the appreciation you harbor for your employees and, at the same time, increase your brand awareness by offering you superior event planning services in Washington DC, Virginia and Maryland area. Let our resourceful event planners and coordinators handle the organization of your next corporate holiday party and your guests will certainly remember it for years to come!
Our Event Planners Will Delight Your Attendees with High-Quality, Flawless Services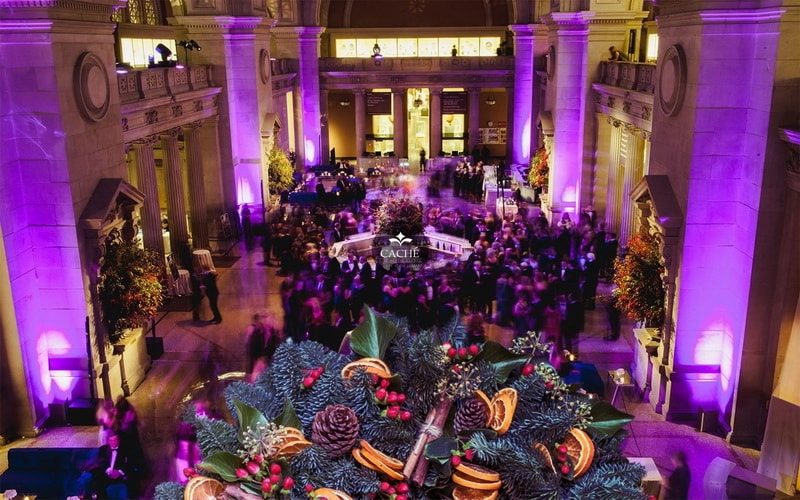 We will efficiently take care of every aspect to ensure your holiday party will be a success, from timely booking a suitable venue to providing delicious food and fine beverages, as well as entertainment to your guests. Our experienced planners will carry out your ideas with utmost attention, while our diligent coordinators will promptly attend to any unexpected situation which may arise during your event so that you will enjoy a stress-free, unforgettable experience alongside your peers.
At Caché Events, we highly rely on communication with our clients. This way, we can gain a better understanding of your perspective, which will help us design a memorable event for your company. If you are not completely sure about how you would like your holiday party to come off, our creative event planners can offer you plenty of engaging ideas. For a truly unique experience, we can also suggest a series of outlandish locations in your area to host your holiday party at, such as:
airport hangars
museums
historic buildings
art galleries
vaults
sound stages
clock towers
aquariums
old warehouses
With Vast Experience in Event Planning, Caché Events Will Organize Your Next Corporate Holiday Party Down to the Last Detail
Our competent team has been designing and executing a wide range of events for corporate clients throughout the past twenty years. As a result, Caché Events is currently among the most well-regarded event planning companies in the in Washington DC, Virginia and Maryland area. If you would like us to help you organize your next corporate holiday party, please call 202.930.2507 or contact us online and we will promptly answer all your questions. Our resourceful event specialists will put forward their best ideas to bring your vision to life.