Day-of Coordinator for Weddings
Have you been spending countless hours planning your wedding down to the last detail but are nervous about how everything is going to unfold on the big day? If so, hiring a day-of coordinator is the ultimate way of ensuring your event will come together exactly as you envision it. A day-of coordinator will guide the bridal party through processional and recessional, provide assistance with photo schedules and dressing, cue wedding professionals, check the number of place settings and all the other important details, as well as overlook gift collection. They will also conduct your wedding rehearsal and formulate a well-thought-out, balanced timeline for your event.
At Caché Events, we offer exceptional day-of coordination services for personal events, which entail a large number of attendees. With over twenty years of experience in the event planning industry, we are bound to offer you flawless services which will leave your guests in awe. Let the event specialists at Caché Events coordinate your wedding and you will not be disappointed!
The Skillful Day-of Coordinators at Caché Events Will Bring Your Dream Wedding to Life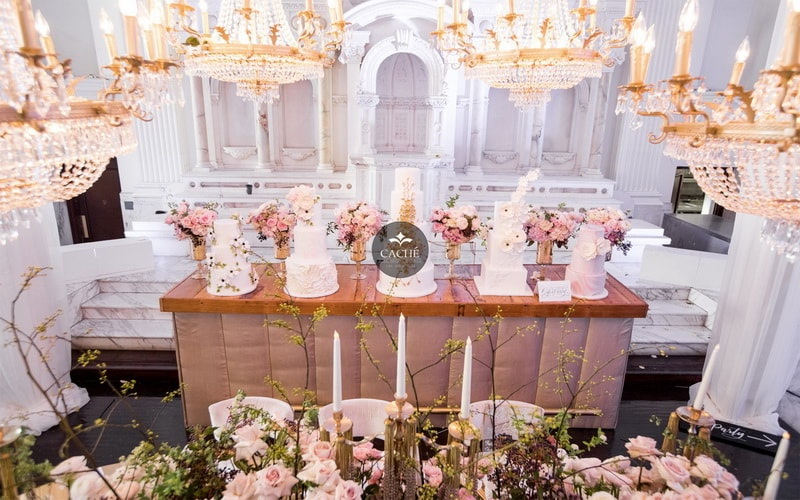 By virtue of the invaluable experience we have gained over the years, Caché Events takes pride in providing excellent event planning services to a very diverse range of clients, from corporate to individual in Washington DC, Virginia and Maryland area. Whether your event is a low-key, intimate gathering or a luxurious wedding with hundreds of guests, we will make sure it runs seamlessly and uninterrupted. Our professional day-of coordinators will discreetly but vigilantly supervise every aspect of your wedding and will promptly attend to any unexpected situation, allowing you to spend quality moments with your loved ones and significant other.
For weddings, the resourceful day-of coordinators at Caché Events offer the following basic services, as well as plenty of additional, tailor-made ones, depending on your specific needs and preferences:
contract review
event timeline development
direction of rehearsal
on-site coordination
distribution of final payments to vendors
ensuring the packing and transportation of gifts and cards
communicating with vendors in regard to arrival time, event timeline, the returning of equipment etc.
ensuring rental equipment is properly packed and safely returned
site visit at the venue of choice to review layout, floor plan, décor, and other important details
unlimited phone and e-mail communication
setting up the reception items, including seating cards, place cards, gifts table, and wedding favors
distributing flowers, boutonnières, and bouquets
post-event cleanup
bridal emergency kit
Day-of Coordinator for Other Events
Even though you already have a complete, thorough plan for your event and have timely made the necessary arrangements, you may still feel anxious about how everything is going to come together on the big day. Organizing a successful event is a very daunting task, especially if you are going to have a large number of attendees, and there are endless aspects you can easily overlook in the process. Additionally, plenty of unexpected situations may arise while it is ongoing, which is most likely going to constantly keep you on the edge. If you could use a helping hand with management, Caché Events is here to provide you with professional day-of event coordination services.
Let Our Exceptional Day-of Coordinators Assist You and Your Event Will Undoubtedly Be a Success
With over twenty years of experience in the event planning industry, Caché Events is truly a premier company. Our diligent team has skillfully coordinated and supervised a broad range of events, from prestigious corporate award dinners to lively personal celebrations such as wedding anniversaries. As we have been working primarily with corporate clients, the quality of our services is always superior and we only collaborate with the most reputable vendors. No matter how complex your event is, our day-of coordinators will ensure it unfolds exactly as you wish and will promptly attend to any unforeseen situation. By letting our amazing day-of coordinators manage your event, you will be able to enjoy the company of your guests in a stress-free atmosphere.
Caché Events will gladly offer day-of coordination services for any sort of personal celebration, including:
engagement parties
anniversaries
baby showers
dinner parties
birthday parties
religious celebrations
retirement parties
Do You Need a Competent Day-of Coordinator for Your Wedding?
If you spent months planning your wedding down to the last detail and would like to rest assured your momentous day will unfold smoothly, the highly experienced day-of coordinators at Caché Events are here to tie up any loose ends and ensure everything synchronizes perfectly. Regardless of how many people are going to partake in your wedding, we will dedicate our endeavors to making sure your celebration is not disrupted by any unforeseen situation until the very last guest departs. For more information, please contact us at 202.930.2507 and we will promptly answer all your questions.