Nowadays, conferences are a vital tool to companies worldwide. Although conference is an umbrella term encompassing a wide range of events, these business gatherings are usually held with the purpose of offering people from the same professional background the opportunity of exchanging ideas, discussing a specific topic or developing skills crucial to their career.
From seminars to workshops, conferences are instrumental in the growth of your numerous businesses and because they often involve a large audience, timely planning is essential.
Caché Events Has a Vast Experience of Over 20 Years in Planning and Executing Corporate Conferences
Whether you are hosting a major conference for thousands of attendees or just a regular meeting for your company, the professional event planners at Caché Events will tailor it to suit your specific needs. Our team has the necessary skills to develop and manage flawless conferences for corporate clients and will meticulously take care of every detail. This way, you will be able to dedicate your time to more important aspects during the event, such as engaging in conversation with your guests.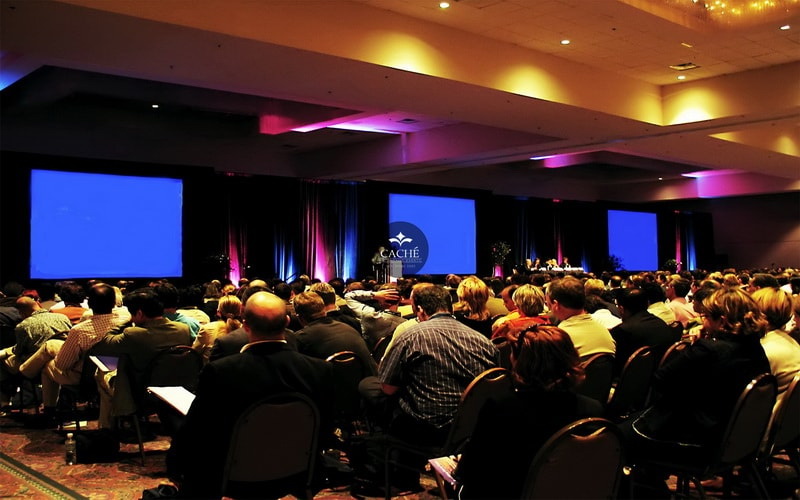 Regardless of the size of your event, our vigilant coordinators will ensure it runs seamlessly. We can successfully execute multiple types of conferences for corporate clients, including complex, multi-day workshops which entail reception, group sessions, entertainment, dinner, and breakouts. Throughout our twenty-year existence as a company, we have learned that communication and efficiency are the key elements when it comes to planning a memorable event. We will attentively listen to your ideas and, at the same time, strive to improve them so that your conference will have a powerful impact on your attendees. For conferences, the event planning services Caché Events provides include:
event design
stage management
attendee registration
theme development
professional staffing
mobile app coordination
venue and hotel sourcing
speaker sourcing
trade show installation and dismantling
event social media management
Are You Seeking Out a Competent Event Planning Company for Your Next Conference?
Caché Events has successfully executed thousands of conferences for corporate clients throughout the past two decades and as a result, we are now one of the highest-rated event planning companies in Washington DC, Virginia and Maryland area. Our professional planners are bound to put forward their best ideas and design a conference which will specifically cater to the needs of your audience. If you are looking for a team of specialists to lend you a helping hand with your next conference, feel free to contact us at 202.930.2507.